The pressures of life can take us in all sorts of directions, sometimes we just need to take some of that time back for ourselves, to re-centre our thoughts - pressing the reset button and finding that calm place.
Massage can help achieve just that, whether you just want to smooth away the stress and tension of the day or you prefer an uplifting massage treatments are tailored to suit the objectives of the client. They can focus on relaxation and stress relief, improving energy, relieving aches or focus on pains or restrictions. All treatments are time dependent and the areas covered within this time will vary. However to give an indication a general 45 minute massage may cover back, neck and shoulders.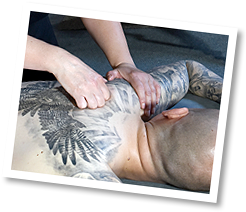 Massage treatments.
45 minutes      -     £38.00
60 minutes      -     £42.00
If it is your first time in visiting me I will conduct a thorough consultation with you, please allow an additional 15 minutes to the treatment time.